Yogoda Satsanga Dhyana Kendra - Dihika
Near Damodar Rail gate
Damodar, PO : Surjanagar
Damodar 713361
Dist. Burdwan, West Bengal
Directions for Trains: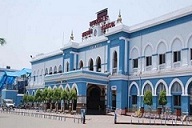 Devotees arriving by express trains are requested to get off at Asansol station. Asansol is a junction station under Eastern Railway and is 200 kms away from Kolkata on the Howrah Delhi route. From Asansol, one can take local trains (also called MEMU) heading for Adra, Purulia, Kharagpur, Ranchi, Tatanagar, and Bokaro. All of these trains stop at Damodar Railway Station which is the second station from Asansol, and is next to Burnpur. It takes about 20 minutes to reach Damodar from Asansol by train. At present, no express trains bound for the above mentioned stations halt at Damodar. Dihika Dhyana Kendra is only a 5-minute walk from Damodar station, in the direction of the Damodar river.
Directions for Bus services:
One may also avail mini-bus services that ply between Asansol Railway Station and Surjanagar and then get off at Damodar Rail Gate. Buses are available every half an hour to one hour, and it takes around 50 minutes to reach the Rail Gate. From the Rail Gate, Dihika Kendra is just about a hundred meters away.
Taxi/Auto:
Prepaid taxis/autos can be booked from Asansol Station area. These are available round the clock. Presently, they charge about Rs 250-300, however, a higher rate may be demanded during night.
Road Route: Asansol -> BNR More -> Court More -> Tribeni More -> Burnpur Station -> Rangapara -> Damodar Rail Gate.