Yogoda Satsanga Society of India (YSS) was founded by Sri Sri Paramahansa Yogananda in 1917. The mission of YSS is to make available to all the ancient scientific teachings, and meditation techniques of Kriya Yoga for achieving all-round success, well-being, and a direct personal experience of God. YSS has more than 200 centers across India to help all Truth-seekers to experience the power of group meditations and to share in spiritual fellowship. Paramahansaji had long nurtured the dream of setting up a residential school where students would be imparted moral and spiritual lessons and yoga training in addition to their formal education and vocational coaching. Around 1916, he was introduced to Sri Manindra Chandra Nandi, the Maharaja of Kashimbazar, who readily agreed to allow his estate bungalow located in Dihika - a lonely hamlet by the river Damodar some ten kilometers away from Asansol - to be used for the residential school.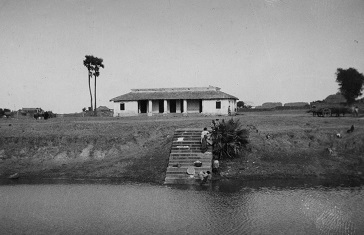 The school was started with seven boys on March 22nd, 1917, the auspicious occasion of spring equinox. As the popularity of the school started soaring high, new students from the surrounding districts began to enroll in a steady stream. Within a year, the number of students increased to such an extent that the Maharaja had to arrange for a larger accommodation elsewhere as the estate bunglow at Dihika was proving too small to shelter all the students. Therefore, the school was temporarily moved to Maharaja's Kasimbazar Palace in Bengal, before being permanently shifted to his twenty-five acre summer palace in Ranchi.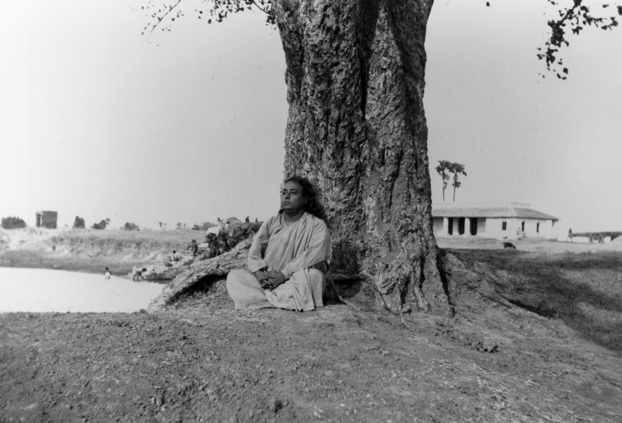 In 1935, when Yoganandaji returned to India to meet his Guru, Swami Sri Yukteswarji, he paid a visit to Dihika. C. Richard Wright who accompanied Yoganandaji on this trip took several photographs. In one such photograph (taken on Dec 18, 1935, shown to the right) Yoganandaji is seen calmly meditating underneath a tree while the pond and part of the school building act as the backdrop.
In the later years, Yoganandaji's second successor Sri Sri Daya Mataji also visited the place where her beloved Gurudeva had started the school.
In 1997, in order to maintain the legacy of the first school of our revered Guru, YSS acquired a little more than an acre of this blessed land encircling the pond. When Daya Mataji was informed about this purchase, she expressed her deep satisfaction and sent her blessings through a beautiful letter wherein she said "My prayer is that through all the years to come those who visit this holy site in Dihika may feel Gurudeva's divine presence, and thereby be touched by a truly divine soul who sought and found God and then selflessly shared God's love with his fellow men". Yogoda Satsanga Dhyana Kendra - Dihika has been functioning at this location ever since. This sacred site hallowed with memories of our beloved Gurudeva has become a place of pilgrimage for all YSS/SRF members. A small shrine has been built at the very place where Gurudeva used to meditate with his companions in the initial days.
With an aim to provide better medical facilities to the less fortunate in this locality, a charitable Homoeopathic Dispensary was inaugurated by Swami Shantanandaji on July 25, 1997. Personalized care and treatment has been the hallmark of the dispensary since the beginning. Poor patients requiring treatment beyond homoeopathic medication are extended financial support as well.
In 1999, in honour of Paramahansaji's contribution in spreading the message of Yoga across the globe, Asansol Municipal Corporation (AMC) named the road from Railway Crossing near the Kendra, up to the Damodar river as "Paramahansa Yogananda Marg."
A meditation hall and a two-storied guest house with accommodation capacity of about 30 devotees were dedicated in 2011, making this pilgrimage site a retreat center as well. In addition, daily group meditations and commemorative functions are held within the Kendra premises.
The Kendra is open every day for individual meditations. A reception-cum-book counter is open between 8 am - 5 pm where visitors can avail information about YSS teachings and publications.